Vital Diagnostics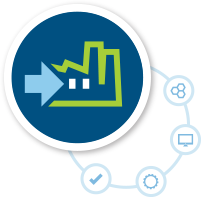 A vital diagnostic tool, stack testing can expose an array of real and potential air pollution control issues. In the new and stricter regulatory environment (e.g. Utility MATS, ICI Boiler NESHAP, Portland Cement Kiln NESHAP, etc.), EES Amended Silicates' skilled staff of engineers and air quality specialists, all with vital hands-on industrial plant experience, offers immediate and reliable source testing for compliance, boiler process operational improvement and air quality control system evaluation.
---
Source Testing Expertise
Whatever the purpose—in-house information, plant design/expansion or regulatory compliance—source testing data is vital. EES Amended Silicates has the equipment and expertise to provide the range of stack testing services, from the simplest and most ordinary to the highly complex, and with fast, reliable results.
Service Details
Dry Sorbent Injection Trials: Trona, Sodium Bicarbonate, Hydrated Lime and Activated Carbon
Mercury Oxidation Enhancement: CaBr2, Hydrogen Bromide
Emissions Testing: HCl, Metals, Hg, Cr6+, PM 2.5/10/CPM, SO2, SO3, NOx/CO, Dioxins, Speciated VOCs
Wet Methods: Speciated Hg by OHM, SO3, PM 2.5/10/CPM (by dry impinger), SVOC
Mobile CEMS: CO, THC, SO2, NOx, FTIR, HCl, HF, NH3
Solid/Liquid Sampling: Coal: Ult, Prox, Cl, GCV, Ash, Hg; Ash: TCLP, Trace Metals, Cl, LOl; FGD: Slurry/Blowdown