EES Amended Silicates Professional Services
Professional. Economical. Reliable.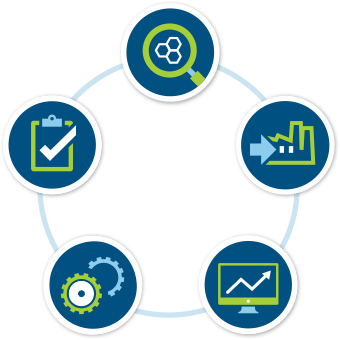 EES Amended Silicates is the unique professional services organization that offers both plant engineering and emission testing capabilities. EES Amended Silicates' professionals conduct single pollutant or full spectrum emissions testing, as well as comprehensive full-scale air pollution control trials.  From planning and technology execution to process sampling, emissions testing and on-site analytical services, EES Amended Silicates' highly experienced experts manage both short term and long-term trials.  With a comprehensive and integrated approach to air pollution control evaluation, the EES Amended Silicates team addresses all anticipated balance of plant considerations and delivers reliable, objective technical and economic viability assessments that ensure optimal operations and environmental compliance.
Testing
EES Amended Silicates owns and maintains a fleet of mercury continuous monitoring systems that are used in various plant locations during the testing process to evaluate the fate of mercury across the entire air quality control system.  EES Amended Silicates professionals can apply EPA test methods for the gamut of regulated pollutants.
EES Amended Silicates offers the following specific testing services:
Air pollution control technology evaluation trials (DSI, Hg control, ESP performance enhancement, scrubber re-emission)
Mercury CEMS RATA
Mobile mercury monitors
EPA Methods testing
QSTI certification
---
Professional Services

Environmental Performance Assessment
EES Amended Silicates' comprehensive source emissions expertise and operational experience provide an essential customized baseline assessment, and a detailed strategy for compliance with state and federal emissions control regulations.

Testing & Evaluation
In the new stricter regulatory environment, EES Amended Silicates' skilled engineers and air quality specialists offer immediate and reliable source testing for compliance, boiler process operational improvement and air quality control system evaluation.

Analysis & Recommendation
With a unique perspective gleaned from decades of experience and comprehensive testing, EES Amended Silicates provides a powerful combination of quantitative results and qualitative analysis, leading to accurate testing data and reliable recommendations for implementing genuine solutions.

Engineering
Utilizing a comprehensive systems view of each plant's operations, EES Amended Silicates offers a seamless connection between the results of chemical testing and the implementation of operational performance solutions, leading to more efficient, cost effective and compliant operations.

Compliance Testing
Knowledgeable about permitting issues and needs, EES Amended Silicates offers full-scale multi-pollutant control testing and engineering services to capably address air quality issues and ensure regulatory compliance.
Please contact Thomas Gale, Director of Technology Development